IranAir Receives First New Airbus A321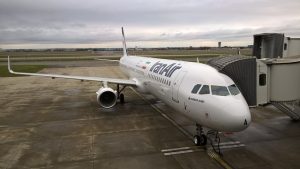 IranAir Receives First New Airbus A321
Iran Air has taken delivery of an A321, its first of an order for 100 Airbus aircraft.
The delivery is the first since US-imposed sanctions against Iran were lifted.
"This significant milestone marks the first practical step in Iran Air's ambitious passenger aircraft fleet renewal and its stronger presence in international civil aviation," Iran Air chief executive Farhad Parvaresh said in a statement.
Iran is forecast to need up to 500 aircraft to update its fleet and allow for route expansion.
Airbus said the delivery complies with international law and US government Office of Foreign Assets Control licenses.
(Airwise)