Hilton Signs Nine Hotels in Mexico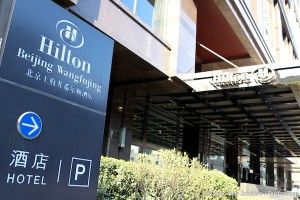 Hilton Signs Nine Hotels in Mexico
Hilton (NYSE: HLT) today announced the signing of nine properties in Mexico that represent a number of Hilton brands, including Hilton Hotels Resorts, Curio – A Collection by Hilton, Hilton Garden Inn, Hampton by Hilton and Homewood Suites by Hilton, as well as the company's first dual-branded property in the country. These newly announced properties contribute nearly 1,200 rooms to the hotel company's pipeline and will join the portfolio of more than 45 existing hotels in Mexico.
"Mexico continues experiencing impressive tourism growth, and the addition of these hotels will help satisfy the increasing demand from both leisure and business travelers," said Juan Corvinos, managing director, development, Mexico, Central America and the Hispanic Caribbean, Hilton. "With nearly 100 open properties in Latin America, Hilton continues to actively pursue growth opportunities in the region. We currently have a robust pipeline of more than 60 hotels across Latin America, including over 30 projects in Mexico."
The properties include:
Hilton Guadalajara Midtown: Expected to open in Q1 2018, the 226-room Hilton Guadalajara Midtown is located northwest of the city of Guadalajara and will be a major part of the Midtown Jalisco project.
The Fives Downtown Hotel Playa del Carmen, Curio Collection by Hilton: Will be Hilton's first property in the coastal town of Playa del Carmen, along the Yucatán Peninsula's Riviera Maya strip of Caribbean shoreline. The 93-room new-build property will reflect the region's natural offerings with a grand wall of live plants and embedded elements that emulate the roots of trees, as well as a skylight. The hotel's rooftop will feature a restaurant, signature cocktail bar, infinity pool, pool bar and lounge.
1970 Hotel Posadas Guadalajara, Curio Collection by Hilton: The 160-room hotel is in the heart of Guadalajara, globally recognized as the capital of Tequila and Mariachi. The property, which will have a restaurant, bar, gift shop and fitness center, will be centered around an open-air courtyard lobby, featuring industrial metals and raw wood materials with vivid pops of colors and elaborate patterns.
Zacatecas Centro Historico, Curio Collection by Hilton: The 19th-century building, in the city of Zacatecas, will undergo interior renovations before its anticipated opening as Zacatecas Centro Historico in early 2018. Its design ethos will focus on simple and elegant finishes in bright colors that enhance the building's original architecture and details, including its historic exterior, doors and windows. The hotel will feature 32 rooms, while adjoining retail space will house two restaurants, a coffee shop and specialty stores.
Hilton Garden Inn Merida: Hilton Garden Inn Merida is slated to open in Q1 2017, with 128 rooms in the area of Altabrisa. Just north of Merida, the hotel will provide convenient access to Plaza Altabrisa, one of the largest shopping malls in the city.
Hilton Garden Inn Mexico City Santa Fe: The 189-room hotel is expected to open in late 2017 as part of the first dual-branded Hilton property in Mexico. The 172-room DoubleTree by Hilton Mexico City Santa Fe, the other half of the development, opened last month. The hotel will be located near Centro Santa Fe, the largest shopping center in Latin America.
Hilton Garden Inn and Homewood Suites by Hilton Saltillo: Slated to open in late 2019, the property will bring 200 hotel rooms to the capital of Coahulia – 110 rooms from Hilton Garden Inn and 90 suites from Homewood Suites by Hilton. The hotel was Hilton's first dual-brand property announced in Mexico and highlights both brands' commitment to expansion in the region. Recognizing a growing demand amongst Latin American and Caribbean travelers for accommodations with value-added amenities that emphasize comfort, convenience and productivity, Hilton has launched a dedicated strategy to expand both brands' footprints in the region, including design prototypes developed specifically for the region, and the added backing of Hilton's proven performance advantage.
Hampton Inn by Hilton Cancun: The 134-room Hampton Inn by Hilton Cancun is scheduled to open in Q2 2017 in the Pabellon Cumbres area of the city.
Several Hilton properties opened in Mexico last year, including DoubleTree by Hilton Veracruz, Hilton Garden Inn Hotel Puebla Angelópolis and DoubleTree by Hilton Hotel Mexico City Santa Fe, which will be joined by Hilton Garden Inn Mexico City Santa Fe to become Hilton's first dual-brand property in the country. Also opened last year were Hampton Inn by Hilton Durango, Hampton Inn by Hilton Piedras Negras, Hampton Inn Suites by Hilton Salamanca and Hampton Inn by Hilton Irapuato.
Logos, product and company names mentioned are the property of their respective owners.