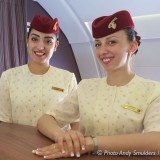 Qatar Airways Business Class Special onboard the B787, B777 and A380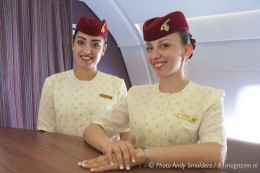 Class
:
5 star
Airport
:
Brussel - Doha - Melbourne - Paris
Reviewer
:
Andy Smulders
Review Date
:
April 2015
Rating
:
1 - Excellent
:
Great Level of Personal Service, Brand new Modern airplanes equipped with the last state of the art features, great connections to the rest of the world and a great new Business Lounge in Doha.

Qatar Airways Business Class Special onboard the B787, B777 and A380 Finally, Qatar Airways will start with direct flights from Amsterdam to Doha ( and the rest of the World ) The Best Middle East Airline, Qatar Airways, was the only leading Middle East Airline missing at Amsterdam Schiphol. On the 16th of June the inaugural […]
Qatar Airways Business Class Special onboard the B787, B777 and A380
Finally, Qatar Airways will start with direct flights from Amsterdam to Doha ( and the rest of the World )
The Best Middle East Airline, Qatar Airways, was the only leading Middle East Airline missing at Amsterdam Schiphol.
On the 16th of June the inaugural flight from Qatar Airways, using a Boeing 787 Dreamliner, will land at Amsterdam Schiphol.
Qatar Airways will start with one daily flight, arriving at Amsterdam Schiphol from the brand new Hamad International Airport in Doha.
Flight QR 275 will depart Doha at 08.25 and arrive at Amsterdam Schiphol at 14.00.
Flight QR 276 will depart Amsterdam at 16.10 and arrive at Doha Hamad International Airport at 23.15.
All flights will be served with the new B787 Dreamliner and it will take about 6 hours flying time.
Passengers who are living close to the Belgium border, can also use the great Qatar Airways service departing from Brussel.
In Brussel they also use the Boeing 787 Dreamliner.
Qatar Airways, an One World Alliance member, will have great connection times in Doha for flights To Australia.
The main flights leave Doha around 01.00 at night.
The Red Eye flights are great for the Business traveller, you will recline after take off and fall asleep in the great beds onboard.
Arriving at 22.55 at Melbourne International Airport, without any jetlag.
It was time to check out the great service.
This time we would be flying:
* Brussel – Doha onboard the Boeing 787 Dreamliner.
* Staying in Qatar for one day to explore the Cultural Capital Doha.
* The new Al Mourjan Business Lounge at Doha airport.
* Doha – Melbourne onboard the Boeing 777.
* Visiting Melbourne, Canberra and Sydney.
* Melbourne – Doha onboard the Boeing 777.
* Doha – Paris onboard the new Airbus 380.
* Youtube, GoPro movie about all aspects covered.
So time to start the engines for this trip.
Brussel Zaventem Airport is a nice airport, not too big and it does not take you long, to pass the security controls.
To improve passenger comfort, Brussel Zaventem allows passengers to walk straight from the check-in desk to their gate.
Brussel – Doha onboard the Boeing 787 Dreamliner.
Check In: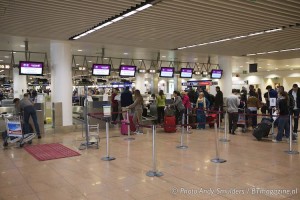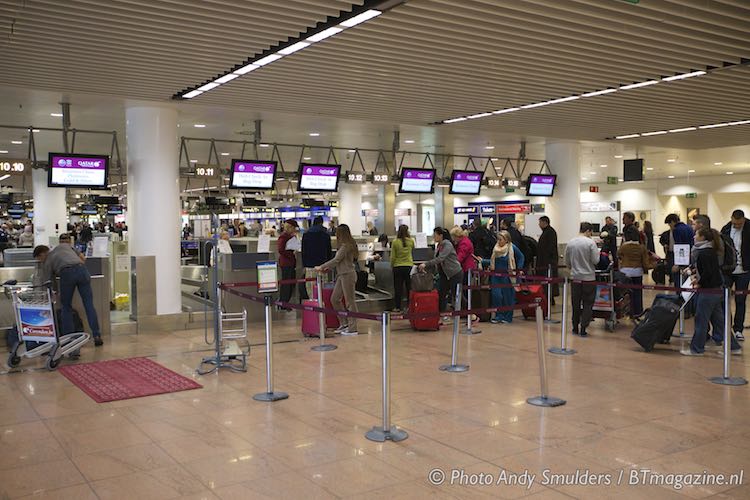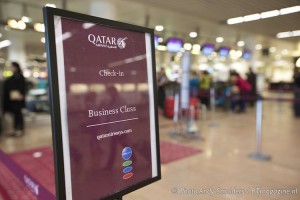 The check in service was great, it did not take long before we got our tickets.
We also received our Fast Track passes for the hand luggage screening.
The priority line for Business Travellers and the red carpet worked fine.
The baggage allowance for the Business Class passengers, is 40 kilograms, more than enough.
A short walk to the passports controle and we where inside the secured area.
Our hand luggage got checked and as we used our fast track passes, there was no line to wait for us.
The British Airways Club Europe Lounge:
The lounges of pier B are located on the 4th floor.
Here you will find the British Airways Club Europe Lounge.
This lounge is available to entitled British Airways and Qatar Airways passengers.
You are welcomed by the friendly service employee and there is enough to do to relax, before your flight will depart.
You will have enough space here, about 150 people can sit and work in the lounge and relax and enjoy all kinds of drinks and food.
There was the call: "Dear passengers, Qatar Airways flight QR 196 is ready for boarding".
It was time to get moving to our gate.
The Business Class passengers are welcomed by the friendly staff and have there priority boarding to go aboard this new Boeing 787.
The new Qatar Airways Boeing 787 Dreamliner: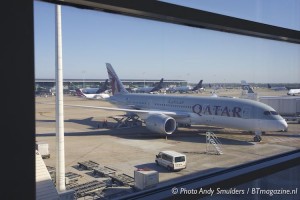 Qatar Airways is using a two class configuration (Business- and Economy Class) on this Boeing 787.
The first thing that you notice are the large windows of the Boeing 787 Dreamliner and the nice led lights.
The plane looks bigger from the inside than from the outside.
The seating is configured as a 1-2-1, and the seats are facing the large windows with electronic blinds.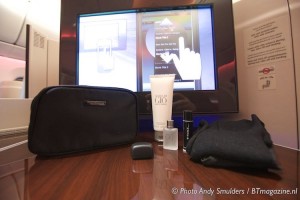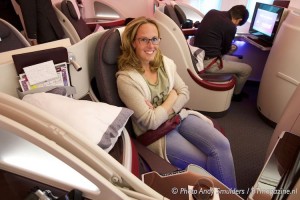 As soon as you arrive onboard, the excellent service from Qatar Airways will start.
Can I help you with your jacket, and they store your jacket.
As soon as you sit down, you are welcomed by a welcome drink.
They offer a great amenity kit from Giorgio Armani with lip balsam, Eau de Toilette, After Shave Balsem and Earplugs.
One for the male passengers and one for the female passenger.
As I switched seats numbers with my female partner, the steward noticed this and switched the amenity bag.
Not many airline staff would have noticed this, so you can see the Qatar Airways cabin staff is very well trained to notice these kinds of small things.
The Business Class seats are great, they are fully Lie-flat seats and they are very comfortable.
Even for tall people ( over 1,94 ) you can fully recline the seat and stretch your legs.
There is enough space to store your stuff, and all features that you wish are available.
A great IFE system, USB connections and very nice led lights surrounding you.
A big advantage on this new 787 Dreamliner, everything is brand new, so also the latest and most modern features are installed.
Even a small bar at the end of the Business Class cabin is available
Qatar Airways Meal Service:
Before take off they had asked us what we would like to eat, so no time to waste, dinner time was there after take off.
The meal service is excellent, well prepared and served like in a Michelin restaurant and the taste is suburb.
The soup is delicious, I did not want to ask for a second portion as many dishes would be following.
The main course was a little bit too much for me, I still had to leave some space for my cheese and Ice-cream.
Finishing up the meal service with a great cup of coffee and some chocolates.
It was time to enjoy the inflight entertainment and before I knew, we where preparing for our landing in Doha.
Within 5 minutes we arrived at the gate and the guest service was waiting for me to transport us to the First- and Business Class Arrival Lounge.
First – and Business Class Arrival Lounge:
The First- and Business Arrival lounge is an unique facility.
You don't have to wait in a queue at customs, but you just relax in the lounge.
You can take a shower or just have a small bite and a drink.
Customs facilities are part of the arrival lounge.
Feel free to step forward and pass customs at your own convenience.
Our luggage was waiting for us and we cleared the airport on our way to explore the city of Doha.
Staying in Qatar for one day to explore the Cultural Capital Doha.

Along the bay in Doha, many dozens of glittering skyscrapers are rising out of the desert sands.
Doha is part of the Gulf Emirate of Qatar.
Many luxury hotels are been build in Doha City, over the last 10 years.
When I first visited Qatar back in 2003, there was only one Luxury hotel in Doha, The Sheraton.
Nowadays you will find more and more luxury hotels, covering the skyline in Doha.
Doha stands in the glittering Shadow from neighbor Emirate Dubai, with only one difference.
Qatar still has lots of oil resources and Dubai runs out of oil in a few years time.
Dubai likes to be known as a shopping paradise and holiday destination.
Qatar wants to be known as the new Cultural Capital of the Middle East.
Things to do in Doha:
If you are looking for a great hotel, the W Doha Hotel is one of our favorites.
Especially if you come from Belgium, visit the Belgium Beer Cafe in Doha.
Visit the Museum of Islamic Art and enjoy the great Skyline of Doha.
The new Al Mourjan Business Lounge at Doha airport.
Customers stepping inside Hamad International Airport experience luxury and space, sophistication and elegance.
High ceilings and expansive concourses give a sense of grandeur, while designer touches and beautiful art installations create an environment far beyond convention.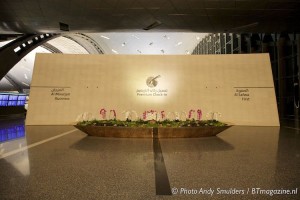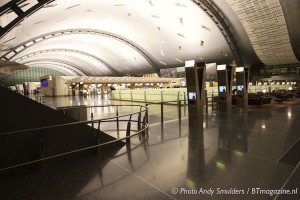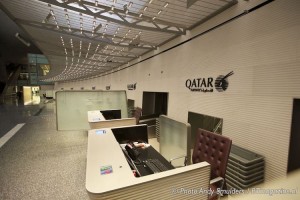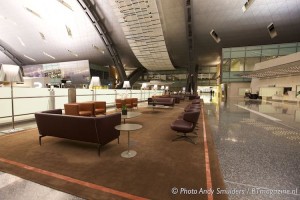 Qatar Airways has a premium Check in building, especially for the First – and Business Class passengers.
The Porter takes care about your luggage as soon as you step out the limo.
He will bring you to a dedicated ground staff stewardess, who takes care about all the arrangement for you.
It's a spacious great lounge, the best lounge in the world I will have to say.
It takes you 10 minutes to walk around and than you still have to walk in fast speed.
I was lucky that I was at the lounge 3 hours before the flight would depart, so it looks not so busy.
But even close to the departure time of a lot of flights, the lounge is not overcrowded.
What tells Qatar Airways us about the new Al Mourjan Lounge:
Offering a luxurious experience rivaling any five-star boutique hotel, Qatar Airways Al Mourjan Business Lounge promises to redefine the world standard in airport lounge experiences.
From the moment you enter, your senses will be treated to a beautiful portrayal of Arabian heritage, a refreshing resort-like ambience, tantalizing a la carte and buffet dining and the signature hospitality that Qatar Airways takes pride in.
We welcome you to the incomparable Al Mourjan Business Lounge experience.
Inspiring design.
A showcase of flawless design and classic flair, Al Mourjan Business Lounge is adorned with some of the world's most exclusive marbles, designer furniture and intricate embellishments.
Hand crafted accents evoke a timeless appeal, while high ceilings and bronze walls featuring traditional calligraphy create an ambience that infuses contemporary elegance with Arabian heritage.
Be inspired by a design where every detail has a story to tell.
Relax and Rejuvenate
Designed to mirror a resort-like experience, Al Mourjan Business Lounge takes inspiration from sunlight, water and nature – a celebration of serenity and rejuvenation.
It offers our customers a precious retreat to relax and rejuvenate from the stress of long haul travels and enjoy a treasured moment that will actually make spending time at the airport a pleasure.
Multiple Dining Options
Al Mourjan Business Lounge offers a variety of dining areas to suit your preferences, with both buffet and a la carte menus.
So whether you are in the mood for a light snack or a fine dining gourmet meal, we cater to your every whim.
The flavours of the world come alive on the spacious mezzanine floor where guests can choose between a continental or oriental brasserie, a global deli and a patisserie.
To enchant your taste buds even further, there is also a signature bar serving some of the world's finest beverages.
Expansive Spaces
Spread over an expansive 10,000 square meters, Al Mourjan Business Lounge is about 10 times the size of an Olympic size swimming pool.
With a variety of spaces designed to suit your every need, our guests can enjoy a refreshing drink in our garden resort area, catch a quick nap in one of the quiet rooms.
Relax in one of the family rooms or simply kick back and enjoy a moment of serenity and indulgence.
World-class facilities
Guests who wish to stay connected can enjoy a range of business services from conference rooms to fully equipped business centers.
Customers looking for a more quiet working space can cocoon into one of the private workstations equipped with personal display screens and complimentary WiFi.
For those who are looking to unwind, an exemplary range of facilities await you from private family areas with widescreen TVs and leather couches to game rooms that include a Formula 1 simulator and a children's nursery and much more.
Stay refreshed
We understand that long haul travels can be exhausting and to ensure that our guests stay refreshed, we have taken special care to design superior shower and restroom facilities.
Each shower is part of its own spacious area with luxury amenities and fine linens.
It says it all, Qatar Airways is only satisfied with the best from the best.
Doha – Melbourne onboard the Boeing 777
Qatar is still serving a First – and Business Class on some flights.
On flights from Doha to Melbourne there is only a Business Class configuration and Economy Class.
It was time to start our second journey from Doha to Melbourne, as the plane was ready to board.
It was hard to say goodbye to the Al Mourjan Business lounge as I wanted to experience much more, but the airplane was waiting for us.
The Boeing 777-300 is an airplane for very long flights over 13 hours, so Qatar Airways is offering an even bigger Business Class seat.
They say that this is a Business Class seat, but they better could name it a First Class seat.
There is so much room around you and also this seat is a Full Lie-Flat Seat.
The flight to Melbourne departs at 00.55, but I was lucky I still have some old images from the reclined Business Class seat at daytime in my photo database.
As soon as you settled,  you are welcomed by a welcome drink and the amenity kit from Giorgio Armani.
They ask you what you want for dinner and / or if you need a Qatar Airways Pyjama to sleep.
This flight is a Red Eye flight, what means that you fly mostly at night.
You will depart at night time and arrive at night time as well, with a few hours day time in between.
As we had a great dinner at the Al Mourjan Business Lounge, the Red Eye flight is perfect to start and end with a goodnight sleep.
I told our personal stewardess, please wake me up two hours before we land and offer me a light meal with Orange Juice and Coffee.
As soon as we where airborne, it was time to close my eyes and sleep throughout our flight to Melbourne.
Two hours before the landing, my stewardess woke me up, Hello Mr Smulders, I hope you had a goodnight sleep.
Can I offer you the light snack and your Coffee and Orange Juice ?
Your welcome I told her.
After the meal service, it was time to fresh up myself in toilet.
40 minutes before landing , time to fill out all the paper work for immigration in Australia.
You also receive a fast track voucher from the cabin crew to speed up the immigration at Melbourne Airport.
There was the signal for fasten your seatbelt: "as you noticed we have started our descend into Melbourne".
The 13,5 hour flight past away so fast, that I was not even a bit restless at arrival, as it was late in the evening again in Australia.
Visiting Melbourne, Canberra and Sydney

Australia is a great country to explore.
There are a few cities that you must visit.
MELBOURNE:
Melbourne, the State Capital of Victoria,
Victoria is Australia's most densely populated state and its second-most populous state overall.
Most of its population is concentrated in the area surrounding Port Phillip Bay, which includes the metropolitan area of its capital and largest city, Melbourne, which is Australia's second-largest city.
Melbourne also served as capital of Australia until the construction of Canberra in 1927, with the Federal Parliament meeting in Melbourne's Parliament House and all principal offices of the federal government being based in Melbourne.
Melbourne offer you all kinds of accommodations.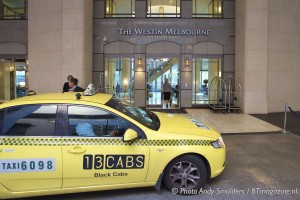 If you are looking for a great 5 star hotel in the Middle of the Center from Melbourne, you will find the great Westin Melbourne Hotel.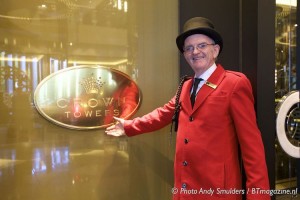 There is also the Crown Towers Hotel at the banks of the Yarra River, it is a bit more expensive, but well worth it if you like playing at the Casino.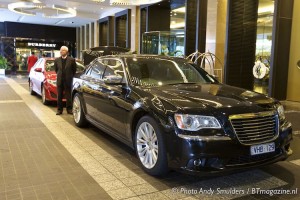 In Melbourne you can use the great service from Eagle Limousine Services, our partner in Melbourne.
CANBERRA:
Canberra is the capital city of Australia.
With a population of 381,488, it is Australia's largest inland city and the eighth-largest city overall.
The city is located at the northern end of the Australian Capital Territory (ACT), 280 km (170 mi) south-west of Sydney, and 660 km (410 mi) north-east of Melbourne.
A resident of Canberra is known as a "Canberran".
The site of Canberra was selected for the location of the nation's capital in 1908 as a compromise between rivals Sydney and Melbourne, Australia's two largest cities.
It is unusual among Australian cities, being an entirely planned city outside of any state, similar to Washington, D.C. in the United States or Brasília in Brazil.
Following an international contest for the city's design, a blueprint by the Chicago architects Walter Burley Griffin and Marion Mahony Griffin was selected and construction commenced in 1913.
The Griffins' plan featured geometric motifs such as circles, hexagons and triangles, and was centered on axes aligned with significant topographical landmarks in the Australian Capital Territory.
There are many different kinds of accommodations in Canberra, but we like the QT hotels.
A new brand expanding fast all over Australia.
The QT Canberra has just been opened in the former Lake Side Hotel.
After a big renovation the QT Canberra is the new Iconic hotel in Canberra.
SYDNEY:
Sydney is the state capital of New South Wales and the most populous city in Australia and Oceania.
Located on Australia's east coast, the metropolis surrounds one of the world's largest natural harbours, and sprawls towards the Blue Mountains to the west.
Residents are together known as "Sydneysiders" and constitute the most multicultural city in Australia and one of the most multicultural cities in the world.
The area around Sydney has been inhabited by indigenous Australians for tens of millennia.
The first British settlers arrived in 1788 with Captain Arthur Phillip and founded Sydney as a penal colony.
Successive colonial Governors assisted to transform the settlement into a thriving and independent metropolis.
Since convict transportation ended in the mid 1800s the city has become a global cultural and economic centre
The population of Sydney at the time of the 2011 census was 4.39 million.
About 1.5 million of this total were born overseas and represent many different countries from around the world.
There are more than 250 different languages spoken in Sydney and about one-third of residents speak a language other than English at home.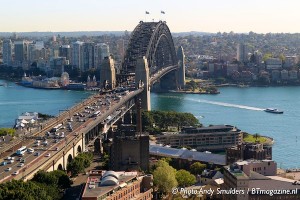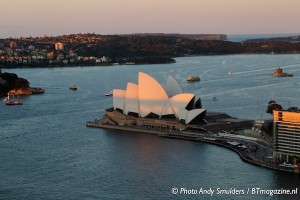 Sydney is famous for it's Sydney Harbour Bridge and the Sydney Opera House.
Sydney offers you all kinds of accommodations: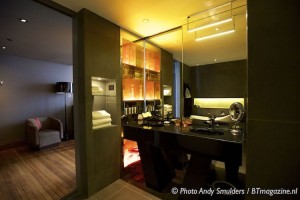 Our favorite hotel is the QT Sydney Hotel.
New, Trendy and an Unique 5 star hotel.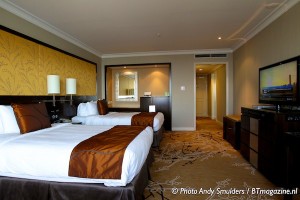 If you ar looking for a hotel to have a great view, we can recommend the Shangri La hotel at Circular Quay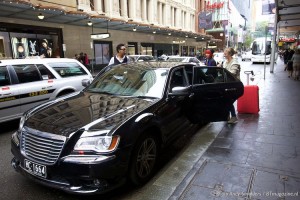 Our favorite limo service company in Sydney is Penguin Limo Services.
Always on time and they have great bargains.
Melbourne – Doha onboard the Boeing 777
It was time to ge ready for our flight to Doha.
Not very different than the flight from Doha to Melbourne, but this time we could use the Qantas International Business Lounge in Melbourne.
The check in was done by the ground staff from Qatar Airways.
I was expecting that Qantas would handle the ground service in Melbourne, but Qatar Airways likes to keep everything under controle.
The check in was finished in a few minutes, the fast track passes, to pass customs, worked great and it was time to visit the Qantas Lounge.
Qantas has recently updated the Business lounge and it looks Fresh, Trendy and Nice.
There are enough seats available and you can enjoy free WiFi and work at the Apple computers.
The lounge also offers enough snacks, but I was surprised to see that they where serving great Belgium Fries.
A 10 for the great Belgium Fries Chef.
It was time to board our Boeing 777 for the flight to Doha.
And again this was a Red Eye flight, so the same for me.
A welcome drink, a pyjama and please wake me up 2 hours before we land in Doha for a light meal.
Goodnight……………….
At 06.15 we arrived at Doha International Airport.
At 08.25 our flight to Paris would depart, so we still had time to get back to the Al Mourjan Business Lounge
Doha – Paris onboard the new Airbus 380.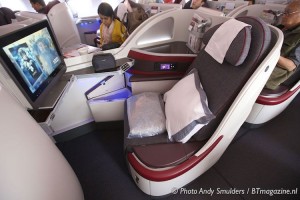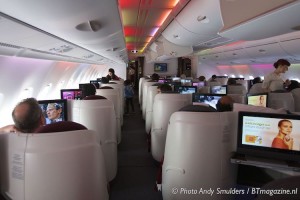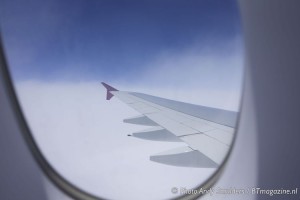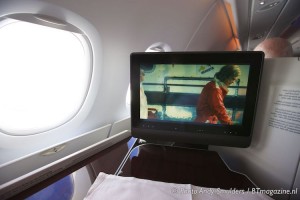 On the 18th of September 2014, Qatar Airways received the First A380.
Featuring a tri-class configuration of seating in First, Business and Economy Class, over two decks.
The A380 is the largest passenger jet in the world and will provide customers with unparalleled levels of comfort reflecting a truly world-class experience.
The A380 Business Class cabin looks the same as the cabine in the B787.
But on the A380, The First- and Business Class cabine are located on the second deck
The 1-2-1 configuration gives direct access to the aisle so that every seat in our A380 Business Class is an aisle seat.
Enjoy greater comfort and generosity of space with our fully lie-flat seats that convert into a bed in the sky.
You are always fully connected, via Wi-Fi and SMS and there is power at every seat for your laptop and personal devices.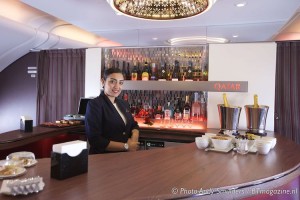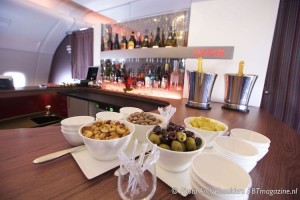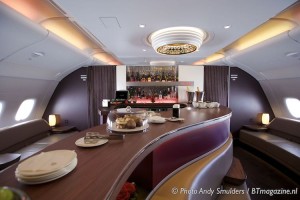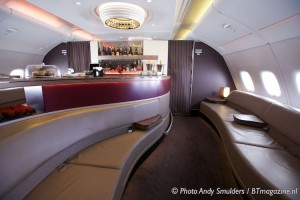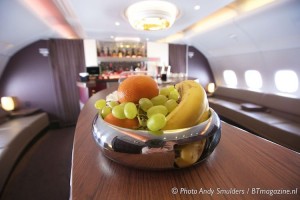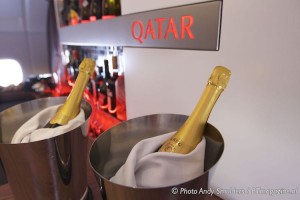 But one of the greatest new developments onboard is the lounge.
The lounge is a sanctuary in the sky, the ideal place for First and Business Class customers to relax, read your favorite magazine, or just enjoy the ambience.
Under the stunning chandeliers, inspired by contemporary Arabian design, you'll find fresh flowers gracing the lounge.
Enjoy a range of canapés and other delicious snacks while relaxing on one of our settees finished in European leather.
I have to say, I enjoyed my time at the bar, Mr Smulders do you like a cocktail ?
I was lucky the person behind the bar, used to work in a cocktail bar and I ordered a special cocktail not on the list.
But no problem for Qatar Airways, she made me the great cocktail.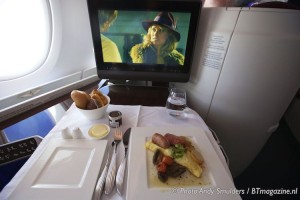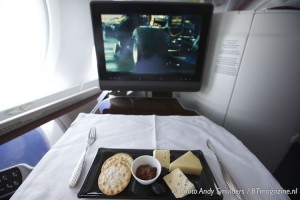 It was time to head back to my seat, as they where about to start the meal service.
Just a light meal for me this time.
The food is delicious, but you don't use a lot of energy onboard.
After the meal service I had a nice conversation at the bar with a Qatar Airways Captain.
Before we knew, it was time for our descend and landing at Paris Charles de Gaulle.
The service onboard the A380 is the same as onboard the B787 and the B777.
The Qatar Airways Cabine service is great, it doesn't matter what kind of aircraft you are flying.
My compliments for Qatar Airways, an airline I will fly more often in the future.
Youtube, GoPro movie about all aspects covered.
Here you can find a GoPro Movie about the latest developments and how my trip went.
Sometimes a movie says more than words.
For me is Qatar Airways an EXCELLENT airline, with the highest ratings given by our auditors ever.
I have not flown a better airline, so YES we can say Qatar Airways is the BEST AIRLINE IN THE WORLD according to our ratings.
They became even better since 2012 and for sure I will fly with them again as they also start flights from Amsterdam Schiphol.
See what the future brings for Qatar Airways ?, I think they will surprise you with some great new concepts in the near future.
Thanks for the great experience Qatar Airways.
More photo's on www.persfoto.com
For more information please check Qatar Airways
380
,
777
,
787
,
A380
,
Airbus
,
Airways
,
Al Mourjan
,
B777
,
B787
,
Boeing
,
Business
,
Canberra
,
catering
,
Class
,
Dreamliner
,
featured
,
Lounge
,
Meals
,
Melbourne
,
Qatar
,
Review
,
Seat
,
Special
,
Sydney
About the Author
Andy
Editor in Chief www.BTmagazine.nl / Photographer and CEO for www.Persfoto.com