Man must take off his artificial legs during a flight with Turkish Airlines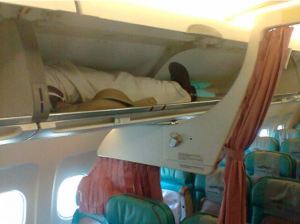 Mr Kersen de Jong, president of the Dutch American Community Trust was forced to take off both of his artificial legs during a flight from Istanbul to Amsterdam.
Mr de Jong was never so humiliated he told the locale newspaper.
Mr de Jong had to lay down in the corridor in front of all the people in his underwaer to take of his two legs.
If that was not enough both legs where visable placed in the overhead bin by the cabin crew.
As a handicapped person you are always allowed to sit in the first row according to the FAA rules he explained.
There was enough place in Business Class and Mr Kersen de Jong was willing to pay extra for the Business Class seat which was only half full to keep his legs on.
On the first section from Amsterdam to Istanbul everything went fine according to Mr Kersen de Jong
Mr Kersen de Jong had informed Turlish Airlines about his handicap when he booked the ticket.
We have asked Turkish airlines for a response but we are still waiting for any reply back.